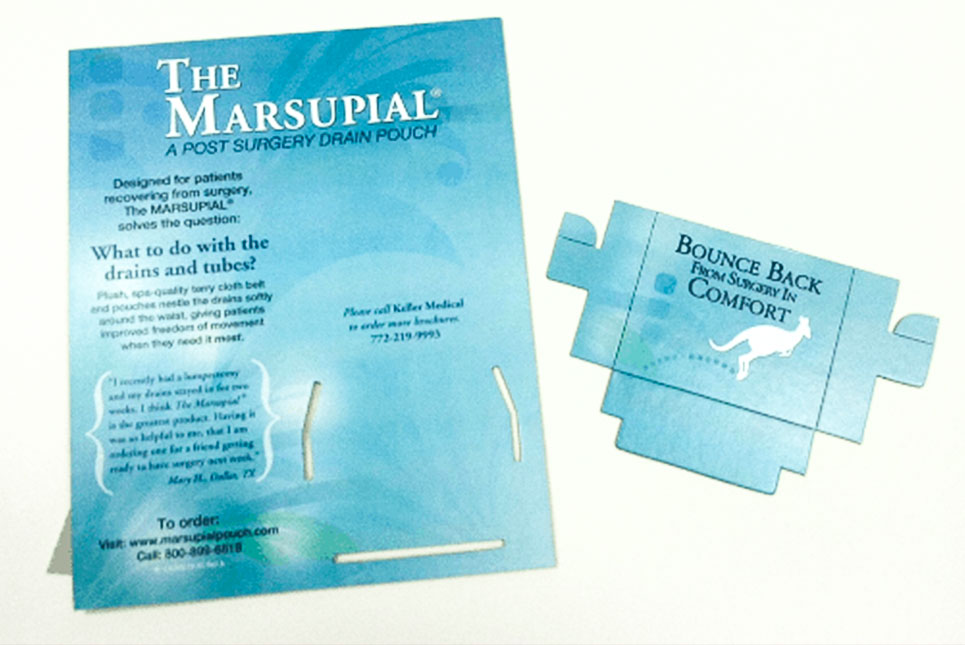 Printing Spotlight
Keller Medical, Inc. (Stuart, Florida) contacted Multicolor Printing recently for the production of  'Take-One' counter displays for their Marsupial® product brochures. The Marsupial® is a post surgery drain pouch produced by Keller Medical which also manufacturers the Keller Funnel, a delivery system for silicon gel breast augmentation used successfully in more than 50,000+ augmentation and reconstruction procedures.
The counter display consists of two, die cut parts, a 10 x 12, stand-up backboard and a 8.5 x 5.5,  take one pocket designed to hold 4 x 9 rack brochures. Both of the parts were printed in full color on 100# coated cover stock utilizing our in-house, Xerox 700, digital color press. After printing, the two pieces were mounted with spray adhesive to 60pt chipboard and die cut utilizing a set of custom cutting dies, one for each piece. The final step in the construction process was to mount the backboard to a double-wing easel.
The result, once the two pieces are joined by fitting each part through die-cut slots, is a counter display which will be seen in doctor's offices around the globe.