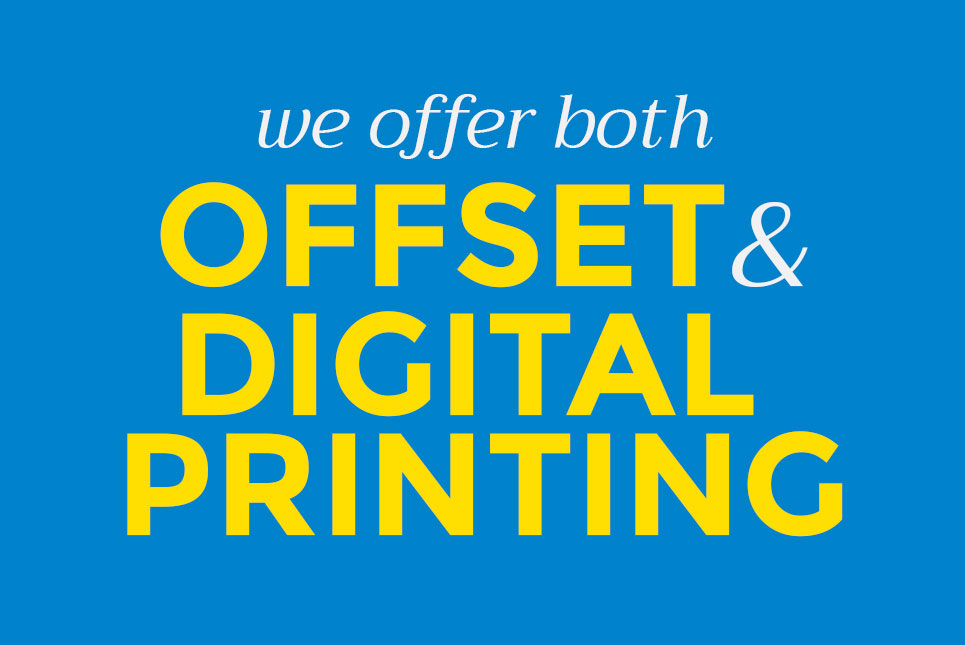 Digital Printing or Offset Printing?
We Offer Both
Are you confused about the differences between offset printing and digital printing? Do you know the advantages of each? At Multicolor Printing, we are both a digital printing company and an offset printing company, so we can provide an objective perspective on both options.
Here is a short summation of each:
OFFSET PRINTING:
Higher Quality (although, for average need, digital is a quality product as well)
Prints specific ink colors best (PMS color match)
Prints screen tints better (a percentage of a solid color)
Much lower cost per piece at higher quantities (especially over 1000 quantity)
Larger sheet size capability (digital is usually limited to 13 x 19)
Heavier (thicker) paper options- up to 17pt and higher
DIGITAL PRINTING:
Best for quickest turn-around times
Best for small quantities
Best prices per piece for small quantities.
One piece of equipment can perform multiple operations (print, staple, fold)
Can allow for personalized or variable data on every piece
As noted above, we offer both offset and digital printing, so it's not unusual for us to use a combination of both printing formats on one project. For instance, we utilize offset and digital printing methods quite frequently on invitation packages in which the invitations will print via offset, but the RSVP cards will print digitally. Books are another example. We often print the full-color covers utilizing offset printing, but the black and white text pages will print on our digital press.
But, you needn't worry. You don't have to concern yourself about which printing method your project will require. We take care of that for you. All you need to know is that Multicolor Printing has a variety of IN-HOUSE production methods (unmatched on the Treasure Coast) which assure you the best quality and value. So relax. If you are in need of brochures, newsletters, invitations, posters, newsletters, postcards, stationery, business cards, note cards, or any printed product, we have the press for you. It's just another part of our superior service.